Reedie Artisans and Entrepreneurs Marketplace
What is Marketplace?
Marketplace is an opportunity for Reedies in the food, beverage, and craft industries to showcase and sell their work to the Reed community. Guests can taste wine and spirits; sample food from local Reedie-owned establishments; purchase jewelry, cosmetics, and crafts; and get books from their favorite Reedie authors.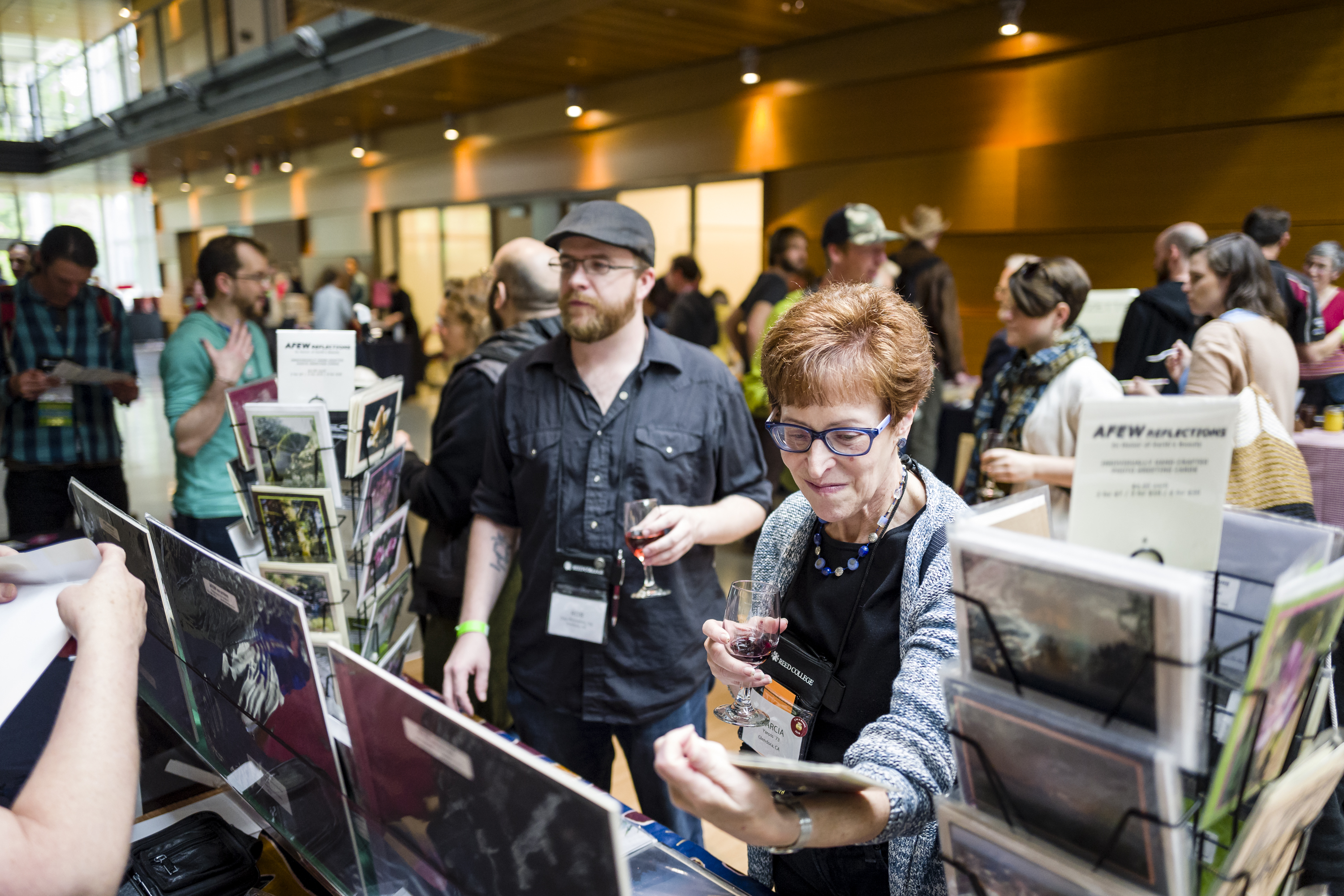 We do our best to make the event accessible to all Reedie entrepreneurs, particularly those who are just starting their careers or trying a new venture. Unlike other markets and fairs, Reunions Marketplace vendors are not asked to pay for table space and we provide most set-up needs (such as tables and linens).
Please note that there is an ATM is available in the basement of the Gray Campus Center across from the bookstore and that some of the vendors are cash-only.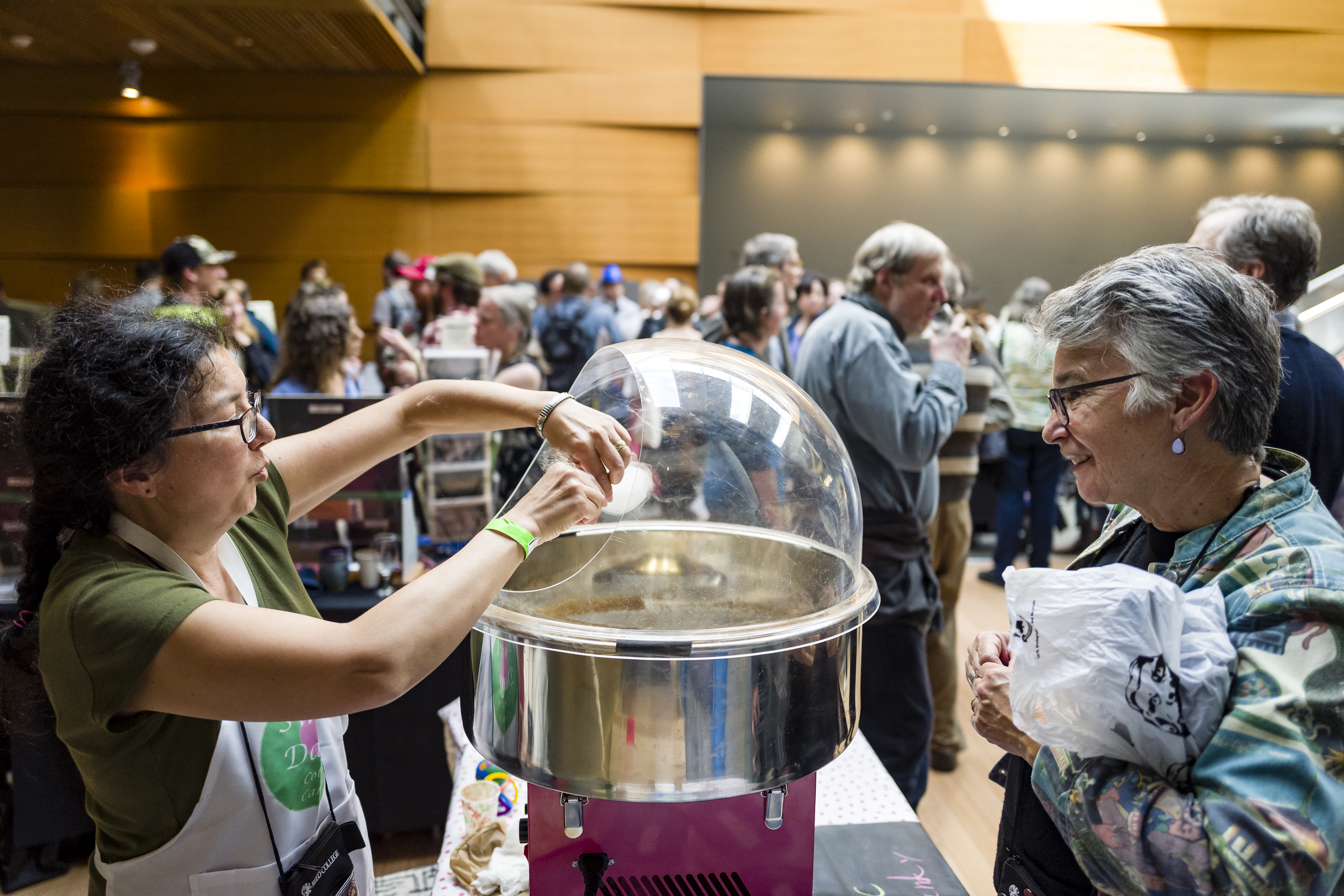 Marketplace 2022 Alumni Purveyors
Laura Atkins '92
Sea glass sun catchers, painted wine bottles, wire trees, and some children's books.
Mai Lon Brosseau '85: Sweet Day
Fresh spun gourmet organic cotton candy.
Tess Buchannan '21
Hand-made art crafted in a variety of mediums including pyrography, linocut block prints, and leatherwork. 

Priscilla Carlson '78: AFEW Reflections
Hand-crafted photo greeting cards, print enlargements, and framed photographs - images in honor of Earth's beauty.

Alisa Chen '21
Ceramic trinkets and vessels, made with love in north PDX.

Sherry Chiang '22
Porcelain ceramics hand built and thrown with love. Selling a variety of cups, bowls, and vases. "I spend hours throwing, trimming, and glazing each vessel!" 

Josh Cox '18: Busybody for Black and Brown creatives
A magazine composed of the works of emerging artists and authors of color. It was designed by and includes the work of multiple Reed alumni.

John Daniel '70
Author of poetry, fiction, and nonfiction.

Sophia Farmer '20
Ceramics, prints, and rugs.
Jade Fung '20: Sleepy Cat Bakery
Classic French pastries and naturally leavened bread. Jade will be accepting pre-orders on the Sleepy Cat Bakery website closer to the date of Marketplace!

Anna Guyton '22
Anna Guyton is a recent graduate and artist. Their work emphasizes photography's materiality through experimental inkjet printing and photographic weavings. They will be selling prints at a wide range of sizes and prices!
Esmé Kaplan-Kinsey '24: Happy Rat Shop
Handmade jewelry for all occasions.
John Laursen '67: Northwest Photography Archive
Wild Beauty: Photographs of the Columbia River Gorge, 1867–1957, a stunning, award-winning book from the nonprofit publisher Northwest Photography Archive.

Jeanie Lee '16: becoming ceramics
Functional ceramics and art objects for daily living & ceremony.

Ruby McShane '22
Cards with photos and collages printed on them.

Georgia Miller '15: JANU ceramics
Functional ceramics handmade in Portland, Oregon.

Jehnee Rains '93: Suzette
Sweet and savory crepes made with local seasonal ingredients by hand with love.

Elise (Fog) Roberts '99: Enlightened Bugs
Bee photo art (cards and prints) from the Pacific Northwest. Hear fascinating tales of wild bees, and ways to support pollinators for a world abounding in a rich diversity of species (including us)!

Gary Rogowski '72
Book. Handmade: Creative Focus in the Age of Distraction, Linden Publishing

Dawn Seymour '81: Fiber Rhythm
Yarn, knitting machines, and knitted and woven items.

Susan Sokol Blosser '66
Author. 
Gay Walker '69
Artist's books, letterpress pandemic and other broadsides, posters.

Beq Yonaka '23: Wheelchair Worm Jewelry
Unique handmade earrings, bracelets, and necklaces.

Emily Zetkulic '16
Art prints and original drawings.