Alumni College 2021
Warming Signs: Emergency, Adaptation, and Innovation in Climate Change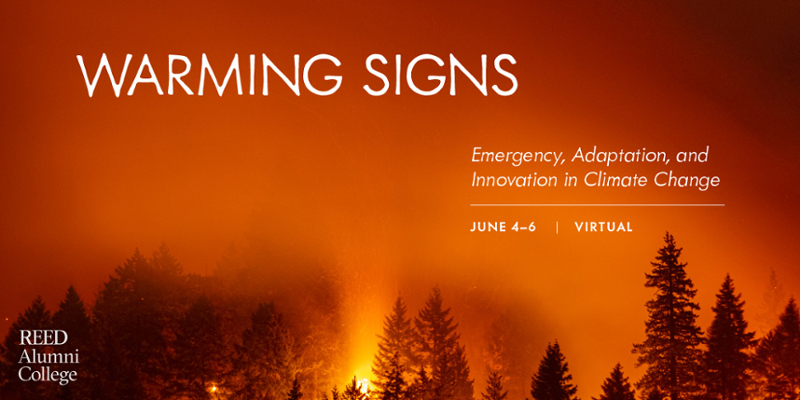 Overview
Virtual Alumni College takes place June 4–6, 2021. In honor of the environmental studies program's ten-year anniversary, Alumni College 2021 will focus on climate change.

Alumni experts from various disciplines and industries will lead alumni through lectures and workshops, providing an overview of the major areas involved in tackling climate change and their experiences in their fields. From governmental policy to green investments, renewable energy technology to environmental law, climate research to resiliency planning, and wildfire science to oceanography–this event will strengthen attendees' understanding of these complex factors and provide practical examples of how we can collectively mitigate the worst of climate change and adapt to a new reality on the planet.
All sessions will be hosted using Zoom technology and are free for alumni to attend.

The platform
New this year: We have an online event platform (Socio) that will host all of our Reunions and Alumni College programming as well as tools for connecting with alumni attendees all in the same place. The platform will include the Alumni College agenda, links to join sessions, alumni attendee profiles, and more. There is also an app with all of the same features, should you want to join from your phone or tablet. Read below for instructions.

Register to access the full schedule of events

Reunions and Alumni College are free to attend and all of the Reed Community is invited.
Get access to virtual Reunions and Alumni College in 2 easy steps!

1. Let us know you'd like to attend via our Google registration form.

RSVP!2. Create an account on our event platforum, Socio, to see the full agenda, event descriptions, supporting materials and links to all our live events.

Making a Socio account is easy!
Enter your name, email and use the pass code DOYLEOWL21 (all caps) when prompted.

Questions? Please contact Alumni Programs, alumni@reed.edu, 503-777-7589. We're happy to help you get registered and logged into Socio for the full list of events, descriptions, and how to access the livestreams.

Schedule

To see the full schedule of events, log in here to see the full descriptions on our event platform. If you haven't signed up for Socio, our event platform, you'll be prompted to make an account. Simply enter DOYLEOWL21 (all caps) when asked for our access code.

Can't wait? Check out the tentative schedule of sessions here.

Questions? Please reach out to Alumni Programs, alumni@reed.edu, 503/777-7589