Reedie Artisans & Authors Marketplace
What is Marketplace?
Marketplace is an opportunity for Reedies in the food, beverage, craft, and literary industries to showcase and sell their work to the Reed community. Guests can taste wine and spirits; sample food from local Reedie-owned establishments; purchase jewelry, cosmetics, and crafts; and get books from their favorite Reedie authors.

Check back for updates!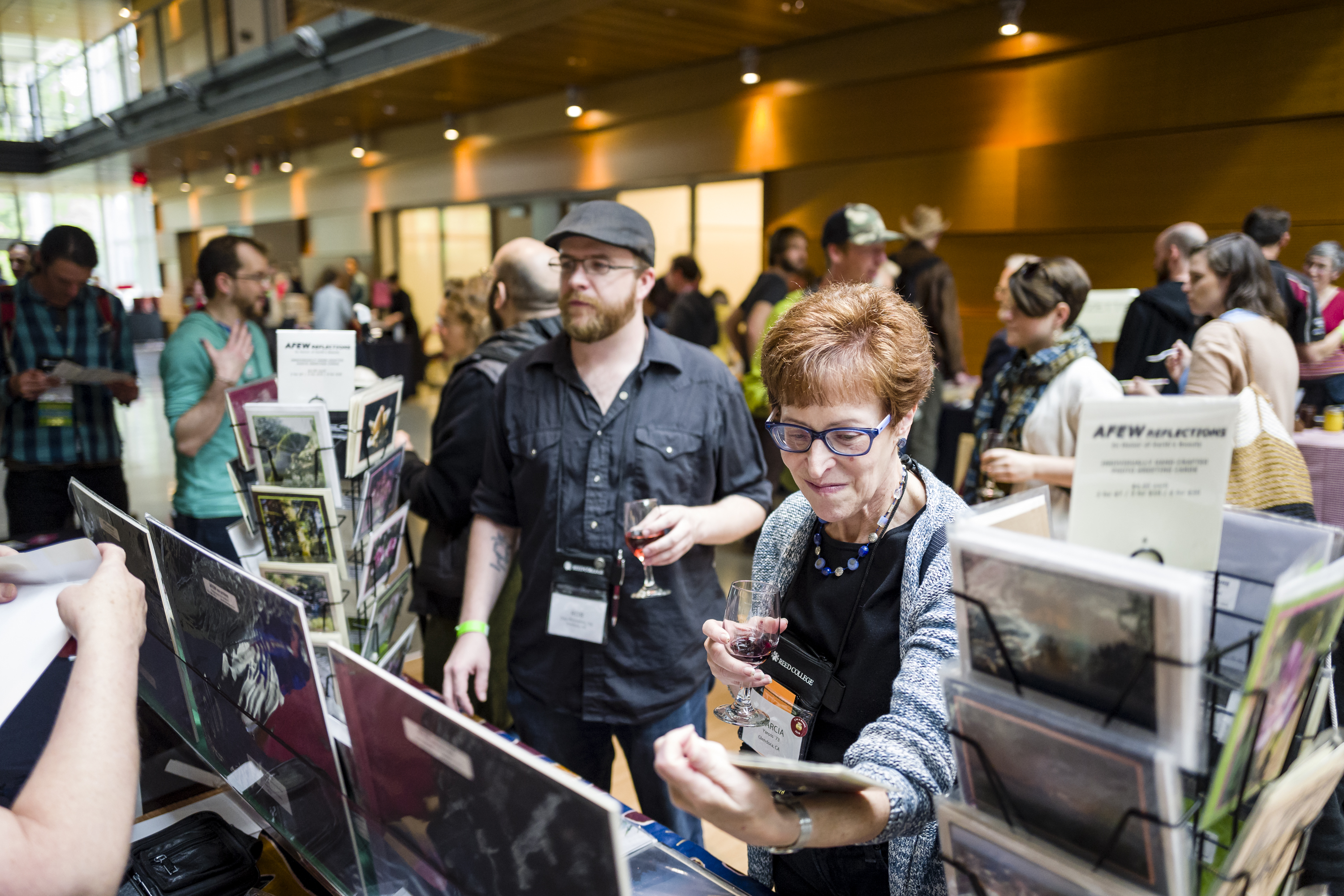 We do our best to make the event accessible to all Reedie entrepreneurs, particularly those who are just starting their careers or trying a new venture. Unlike other markets and fairs, Reunions Marketplace vendors are not asked to pay for table space and we provide most set-up needs (such as tables and linens).
Please note that there is an ATM is available in the basement of the Gray Campus Center across from the bookstore and that some of the vendors are cash-only.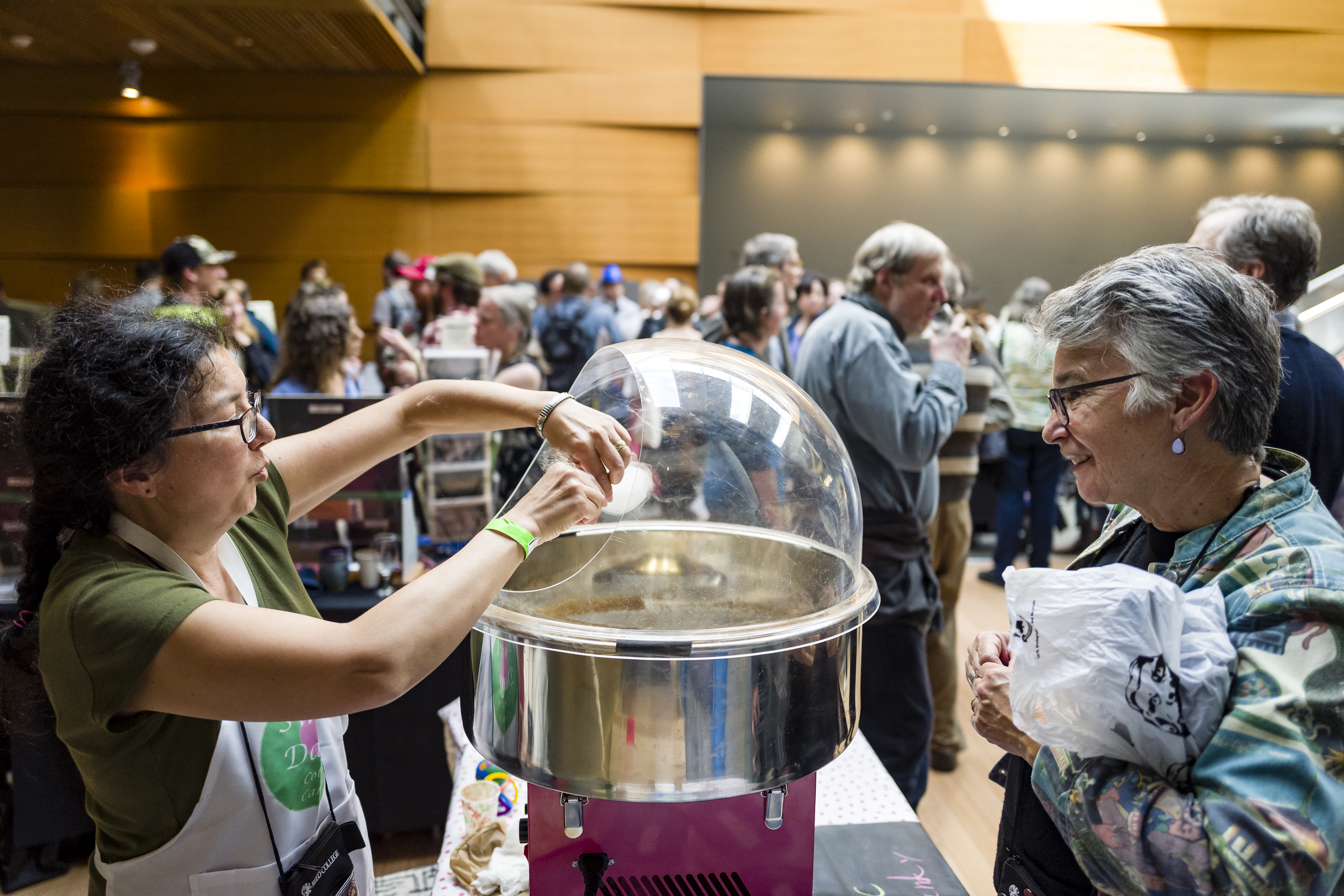 Last Year's Alumni Purveyors
Dave Baxter '87: Glass by Dave
Stained or fused glass pieces. See more of Dave's work on instagram.

Don Berg '12: Attitutor Services
Author of More Joy More Genius, Most Schools Won't Fit, and Education Can ONLY Be Offered. Don will have all three books available. 
Amber Michelle Cook '92
Speculative fiction novels and Chromatic Daffodil Shadows greeting and notecards.
Mai Lon Brosseau '85: Sweet Day
Fresh, hand-spun, gourmet, organic cotton candy to contribute to your happiness.

John Daniel '70
Author of ten books of essays, memoir, fiction, and poetry.

Amelia Hard '67: artist's hand studio
Distinctive handmade metal jewelry in silver, copper, brass, and aluminum.
Jeanie Lee '16
Homemade kimchi. "I had been making kimchi with my mom for most of my life before making kimchi on my own when I started Reed in 2011. My recipe is a variation of her recipe with a few twists of my own."
David Lukas '93
Naturalist and author of Language Making Nature, an exploration of the craft of creating new words for speaking of new ideas, new concepts, and new values.
Scott MacLeod '85: World University and School Academic Press
Author of Naked Harbin Ethnography: Hippies, Warm Pools, Counterculture, Clothing-Optionality and Virtual Harbin, Winding Road Rainbow: Harbin, Wandering & the Poetry of Loving Bliss, Haiku~ish: and Other, Loving, Hippy, Harbin Poetry.

Molly Radany '11
Eclectic handmade decor, jewelry and costume pieces. 
Claudia Royston '89: Global Gourmands
Global Gourmands creates exceptional and authentic food & wine journeys for small groups. Destinations include Europe, South America, Asia, New Zealand, South Africa, Morocco & India.
Cherie Renae '79
Artist and author of Faie Fables: Tales for Women. 
Martha Richards '92: X Gallery Art
X Gallery Art is a fine art storage and placement business located in Portland's Central Eastside District. X Gallery Art provides convenient access to your art while keeping it safe in a secure, climate-controlled facility. Martha will be selling selected unframed paintings from the Shirley Gittelsohn collection that was donated to Reed and is currently being housed by X Gallery Art.
Elise Roberts '99: Enlightened Bugs
Unique glimpses of Oregon bees in stunningly colorful macro photos, focusing on the critical role of pollinators in supporting healthy ecosystems. Elise will bring aluminum prints, acrylic blocks, and greeting cards. 
Sonya Sanford '04: Beetroot Market and Deli
Beetroot is a new Jewish deli and specialty food store located in NW Portland.

Theressa Silver '93: ArgentGal Designs
Author of Knitting Wild, a book of knitting patterns and essays inspired by national parks and wildlife refuges. Theressa will also bring an assortment of single knitting patterns.
Susan Sokol Blosser MAT '67
Author of The Vineyard Years: A Memoir with Recipes and 7 Lessons at 70: Notes from the Front Line. Susan will have both books available. 
Rosie Tabachnick '19: Lazer Donuts
Lazer Donuts is jewelry made on the laser cutter in Reed's own digital fabs lab! 
Carolyn Woody '79: Lunarcat Studios
Handmade origami ornaments and other Asian-inspired crafts such as cards, magnets, and jewelry.
Emily Zetkulic '16
Pen-and-ink illustrations of flora and fauna.